(Toronto, June 8, 2017) – Fox Flight's air ambulance fleet is sporting a new look these days. The Toronto-based international medical repatriation company recently partnered with Wounded Warriors Canada to help support programs for ill and injured Canadian Armed Forces members, first responders and their families. As part of its commitment, Fox Flight has placed a Wounded Warriors Canada decal on each of its four Lear jets.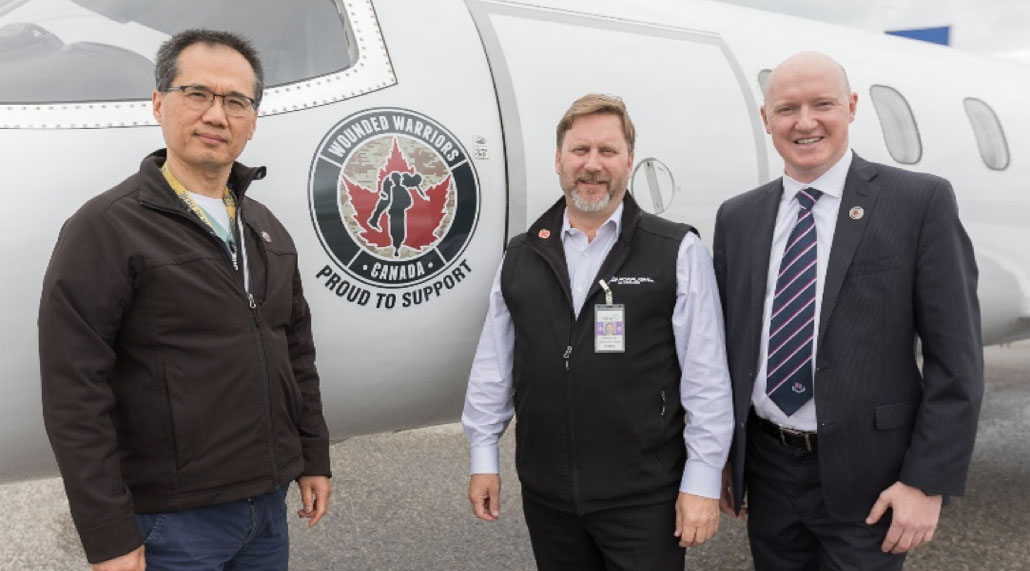 (l to r): Dr. (Capt.) Raymond Kao; David Fox, President, Fox Flight Air Ambulance; Scott Maxwell, Executive Director, Wounded Warriors Canada.
"We are proud to use our air ambulance fleet to help raise awareness about Wounded Warriors Canada," said company president David Fox. "As a Canadian company that specializes in helping sick and injured individuals get home to recover and resume their lives, we really appreciate the work Wounded Warriors Canada does to help members of our Armed Forces and first responders who have sacrificed so much."
Founded in 2006, Wounded Warriors Canada is the country's leading, wholly independent veterans' charity focusing on mental health; this year the organization will invest $1.8M in a variety of programs for ill and injured Armed Forces members, first responders and their families. Funding for these programs is provided by individual Canadians and Canadian businesses. Fox Flight has also made a pledge to donate $100,000 to the charity over the next five years.
"Thanks to Fox Flight Air Ambulance for their generous donation and for outfitting their aircraft with these awesome decals, helping raise awareness and funds for us across Canada and around the world," said Scott Maxwell, Executive Director of Wounded Warriors Canada. "This is yet another example of how partnerships make our mental health programs possible."
Fox said the company was inspired to partner with Wounded Warriors Canada by Dr. Raymond Kao, who, in addition to serving as Fox Flight's Medical Director, is an active member of the Canadian Armed Forces. Over the course of his distinguished 40-year military career, 25 of those as a critical care physician, Dr. Kao has served multiple operational deployments in Afghanistan and also served on the military medical team combating the Ebola epidemic in Sierra Leone. In 2013 he was named Canada's first-ever Chair of Military Critical Care Research. Dr. Kao is currently preparing to embark for Iraq for a three-month deployment with the Canadian peacekeeping force.
"We are obviously very proud to have Dr. Kao as our Medical Director, and when we learned that he was deploying once again we wanted to do something to show our appreciation for his service," explained Fox. "Helping to promote the great work Wounded Warriors Canada is doing seemed like the perfect way to do that."
Added Maxwell: "It was a true honour to announce this partnership with the support and presence of Capt. Raymond Kao – a truly outstanding Canadian who has served our country with distinction for so many years."
About Fox Flight
Founded in 1997, Fox Flight Inc. is a Canadian air ambulance company providing international, 24-hour, emergency medical transport, bed-to-bed stretcher evacuation and onboard patient transfer services on commercial flights. Fox Flight has its head office and hangar facilities in Toronto. The company employs a staff of fully licensed physicians, nurses and respiratory therapists, as well as highly experienced pilots and aviation maintenance technicians. Fox Flight's fleet of dedicated, fixed-wing air ambulances consists of specially configured Lear 35A and 36A jets equipped with the latest in advanced intensive care medical technology. Fox Flight maintains full global EURAMI accreditation.
Media Inquiries:
Fox Flight Inc.
200 Evans Ave., Ste. 201
Toronto, Ontario
M8Z 1J7
Email: frank.condron@foxflight.com