(Toronto, April 2, 2017) – Fox Flight Air Ambulance, a Canadian company specializing in international medical repatriation, recently launched a completely updated website (www.foxflight.com). The new site is fully configured to fit mobile, tablet and desktop screens and features enhanced graphics and additional information about the company and its services. Company president David Fox says a website upgrade was required in order to better reflect the range and level of services Fox Flight now delivers for its clients.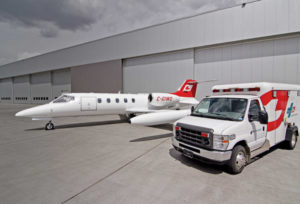 "Our original website was in operation for quite a few years, but our company and Web technology have
come a long way since we launched it; we were due for an update" said Fox. "First, we needed a site that was one-hundred-percent compatible with mobile phones and tablets because so much business is conducted away from desktop computers these days. Secondly, because your website is essentially your company's storefront today, it was very important that we have a site that accurately reflects the level of professionalism we have achieved after more than two decades in the medical repatriation business, as well as our dedication to providing the highest standard of care and service for our clients. We believe the new site delivers on all these requirements and we look forward to current and prospective clients visiting foxflight.com and learning something new about our company."
Along with enhanced graphics, Fox Flight's upgraded website features video and more detailed information about services and accreditation. The new site also includes a comprehensive image gallery that gives visitors a detailed, behind-the-scenes look at the company's air ambulance fleet, patient care procedures and in-house maintenance department. Visitors to the site are also able to review FAQs, post resumes and request a quote for services.
"Once they visit the new website, anyone interested in learning more about Fox Flight Air Ambulance will have a clear understanding of what we do and how we do it," said Fox.
About Fox Flight
Founded in 1996, Fox Flight Inc. is a Canadian air ambulance company providing international, 24-hour, emergency medical transport, bed-to-bed stretcher evacuation and onboard patient transfer services on commercial flights. Fox Flight has its head office and hangar facilities in Toronto. The company employs a staff of fully licensed physicians, nurses and respiratory therapists, as well as highly experienced pilots and aviation maintenance technicians. Fox Flight's fleet of dedicated, fixed-wing air ambulances consists of specially configured Lear 35A and 36A jets equipped with the latest in advanced intensive care medical technology. Fox Flight maintains a full global EURAMI accreditation.
Media Inquiries:
Fox Flight Inc.
200 Evans Ave., Ste. 201
Toronto, Ontario
M8Z 1J7
Email: frank.condron@foxflight.com